| World travel | India | Transport | Site map | HOME |
STREETS
Most of the roads in India are relatively good and there is officially left-hand traffic. But only to a limited extent, because everyone drives as they want and wherever there is space on the road. The one behind is not allowed to drive into the vehicle in front, otherwise we could not see any other generally applicable rules. It's good that we had a car with a driver, because even as a passenger, Michael hurt his right leg in the first few days from imaginary braking. In the course of days, however, you learn to look at the whole crowd on the streets with a certain serenity and to focus on your driving skills Drivers to leave. On the overland routes, buses and trucks are constantly overtaking you and you can see the vehicles coming straight towards you. The only thing that helps is to close your eyes and through. The most important utensil on every vehicle in India is the horn, regardless of whether it is in the metropolis of millions or in the country - horns are honored anytime and anywhere.

You cannot rely on the road surface in India either, even if you drive on a toll road, holes the size of a bucket suddenly appear in the asphalt, or you are almost catapulted into the air by surprising bumps in the road. Country roads are sometimes very bad and on small connecting stretches between the villages you get shaken up quite a bit. In addition, the slow camel or ox carts act as a traffic obstacle, only surpassed by leisurely chewing cows and herds of goats on the road. But you see typical scenes at the roadside and can stop often. Outside of the really big places there are no traffic lights. Walking pace was normal for many kilometers on some stretches, so you shouldn't set yourself a goal for the day that is too long.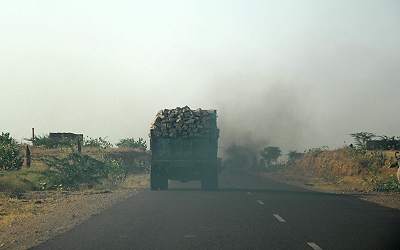 Even if there is seldom fog on the streets in India: An old truck in front of you does its best to obstruct the view like a fog. With oncoming traffic on a narrow street, you need some time before you can finally overtake.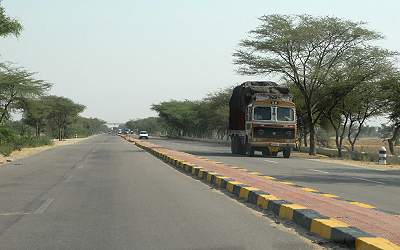 Here you can see a good, almost new interurban road: Hardly any traffic, no obstacles or holes to be seen, a clearly recognizable median and of course you have to pay a toll for it. If all streets were like this, then you would see that too. Achutng: There are ghost drivers here too!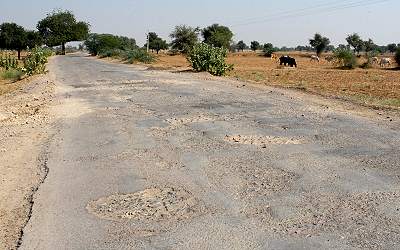 As a contrast to the overland road, I am showing a typical country road here. Can you easily see the patched areas and holes? We were here, near by Jodhpur, pretty shaken.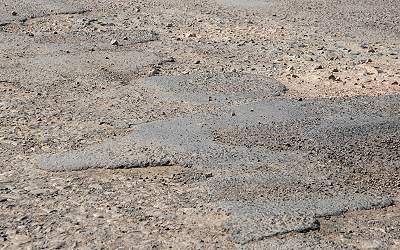 And because it was so beautiful and we got out to take photos, here's a close-up of the road surface. It wasn't the worst we saw in three weeks, by the way.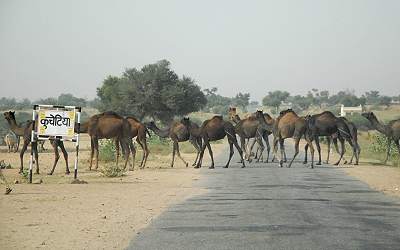 And here we see a typical traffic obstacle on a Rajasthani country road. Sometimes the camels come from the front, sometimes from the left, sometimes they also pull loads and people behind them.

In the places, the mopeds are usually the most unpredictable road users. Especially in front of traffic lights, they like to meander between the waiting vehicles up to the first row.

Construction sites and their bypasses are particularly difficult to drive. Most of the time the route is extremely bad, often wet and muddy or extremely dusty and the strangest vehicles come towards you ... Such construction sites can stretch over dozens of kilometers.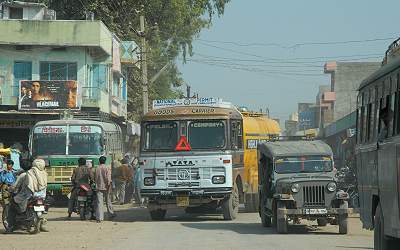 Driving through town is not an easy task for the driver either. Everyone drives and walks here as they want. Ant traffic - Ant traffic - the Indians rightly call the crowd.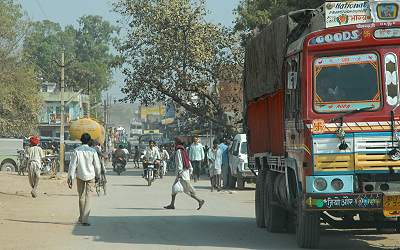 And because there are so many through-passages, here is a typical picture from the passenger's perspective. Who do you hit first? Obviously, progress is very slow here.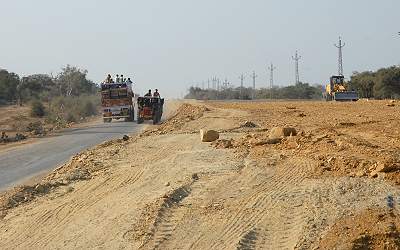 South of Rajasthan, of Udaipur up to Agra, a new 4-lane road is currently being built for kilometers. The bypass is not always as well paved as you can see in this picture.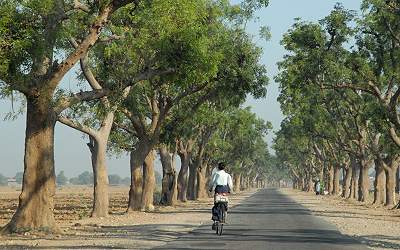 Such tree-lined streets are rarely found in barren, rural areas Rajasthan. With the new construction and the widening of the road between Agra and Delhi a row of trees is being completely felled. These little trees here can probably live even longer, as the narrow street will not be extended for the time being.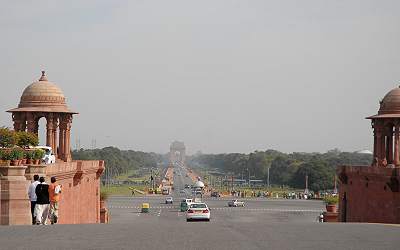 And this enormously wide and almost empty street is also a rare sight in India. The picture shows the government district of New Delhi towards India Gate. There are no animals or beggars here, everything a little "Out of India".

| World travel | India | Transport | Site map | HOME |
| Data protection | Imprint |