Why are there no more solar-powered electronics?
Plug-in solar: solar power from the balcony directly into the socket
In principle, plug-in PV systems can also generate and feed in higher outputs. At this point at the latest, however, an electrician is required to check the technical requirements of the power connection and register the device with the network operator. From our point of view, it is more of a photovoltaic system than a household appliance that generates electricity.
The correspondingly higher installation effort for a photovoltaic system is only financially worthwhile with significantly greater system outputs of over 2 to 3 kilowatts.
6. What does a plug-in solar device bring? Is it worth it for me?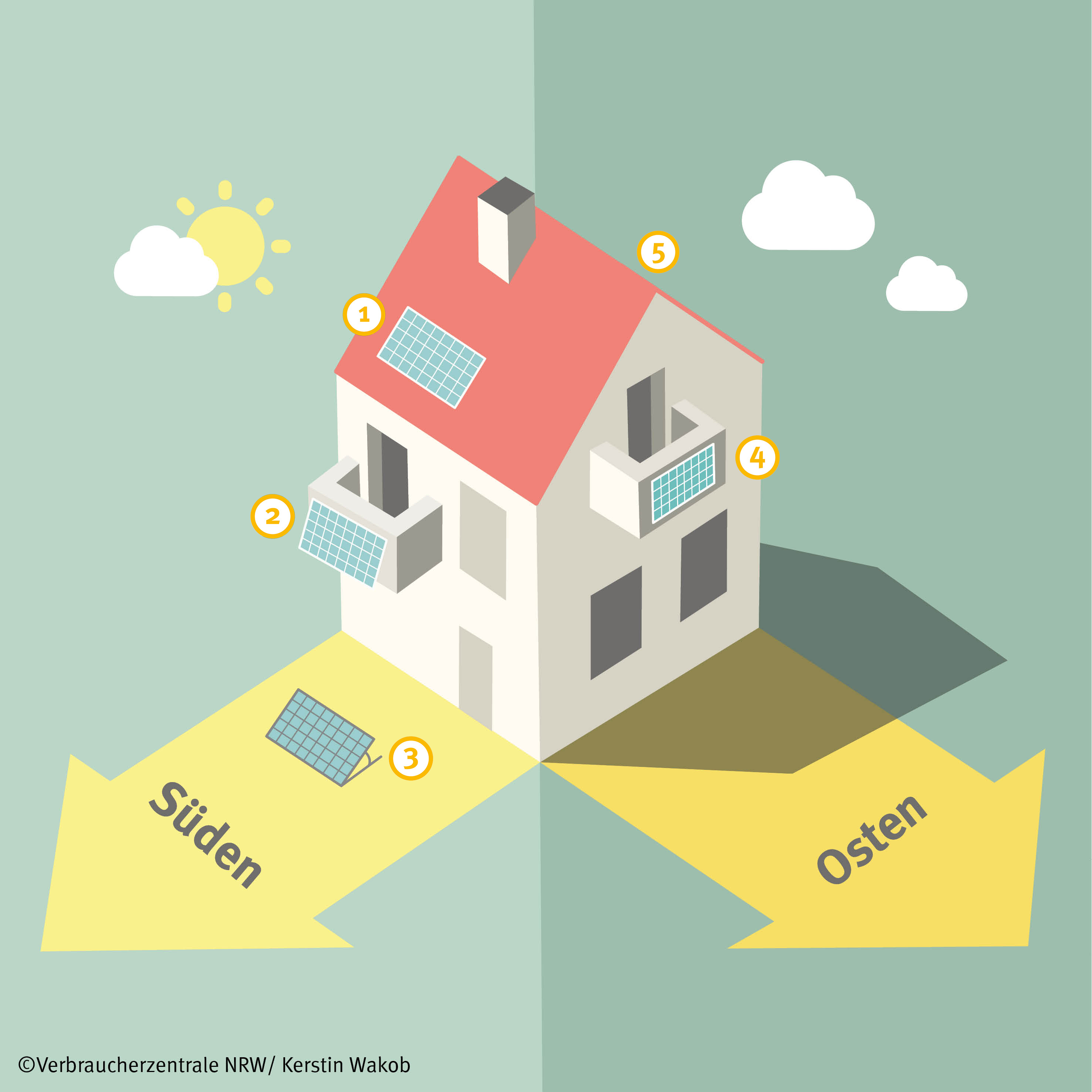 An annual yield of approx. 260 kWh is realistic.
The annual yield should reach approx. 200 kWh if the module is attached vertically to the balcony parapet. It increases to up to 250 kWh, depending on the angle at which the module is oriented.
The annual yield can be between 130 and 200 kWh. It strongly depends on the extent to which objects in the immediate vicinity, e.g. houses, trees or bushes, cast shadows on the module.
The annual yield brings about 150 kWh. Tilting the module can increase the yield.
The yield here is well below 100 kWh. Therefore, a module is hardly worthwhile at this point.
With a plug-in solar device, you make your own personal contribution to the energy transition. The mini solar systems usually produce enough electricity to cover a substantial part of the base load and the midday peak of a household.
A standard solar module with an output of 300 watts, which was installed on a south-facing balcony without shading, supplies around 200 kilowatt hours of electricity per year. Your electricity consumption is reduced by about the same amount if you can use the electricity in the household directly.
This amount of electricity corresponds roughly to the annual consumption of a refrigerator and a washing machine in a household with 2 people. With an average electricity price of 27 cents, this results in annual savings of around 54 euros.
A plug-in solar device with a standard module costs around 350 to 500 euros. So it takes 6 to 9 years for your purchase to pay for itself. Solar modules can produce electricity for 20 years or more.
Not only do you reduce your electricity bill, you also do something good for the environment: The mini solar system saves around 2.5 tons of CO2 emissions in 20 years.
The yield of the device and thus its profitability depend on various factors. This includes the solar radiation at the location and the alignment of the module.
Unsuitable installation locations are:
behind the balcony parapet in the balcony niche,
on the wall under the balcony of the floor above,
Places with shade, for example from trees, lamp posts or houses.
Even partial shading or soiling of the modules can lead to a reduction in yield. You should therefore check your module regularly and remove any dirt.
7. Is there a subsidy for plug-in solar devices?
More and more municipalities are promoting plug-in solar devices through grants. In addition, network operators are increasingly supporting this application by simplifying registration and not hindering use.
You can also use the EEG feed-in tariff intended for photovoltaic systems. To do this, you must meet the legal requirements (see also the next point). Check whether it is worthwhile for you: If the plug-in solar device generates 400 kilowatt hours of electricity per year and 100 kilowatt hours of that flow into the grid, you are entitled to around 9 euros feed-in tariff. In 20 years that will be just under 180 euros.
8. Where do I have to register a plug-in solar device?
In its low-voltage directive, the EU has classified small producers up to 800 watts as "not in need of regulation" because they are "not systemically relevant". Nevertheless, the German network operators want all generating plants, regardless of their output, to be reported to them. They have written this requirement into the corresponding regulation (application rule VDE-AR-N 4105). A simplified form is provided for producers up to 600 watts (which also includes plug-in solar devices according to our definition). After all, it is not necessary for an electrician to fill out this form; you as a user can do that yourself.
Many network operators make the simplified forms available on their website; some send them on request. In addition, the German Society for Solar Energy e.V. (DGS) has created a consumer-friendly sample letter for this.
You must enclose a data sheet for the inverter used with the registration, which shows that the device fulfills the requirements for grid connection (declaration of conformity).
Some providers of balcony modules offer help with registration. The website machdeinenstrom.de even offers an automated reporting service.
Although it is disputed whether plug-in solar devices are "systems" at all, at least if these systems are not permanently connected, but are connected to the power circuit like household appliances via a plug, the Federal Network Agency also requires registration in the market master data register.