Phion structured water is a scam
Water revitalization
The terms Water revitalization, Water activation and Water vitalization describe various esoterically inspired processes with which one can change conventional water in a way that has not been explained plausibly in such a way that after consumption it should lead to an improvement in the state of health, the mood or other benefits for the consumer. Corresponding products are put into circulation under different names. Many providers state that this "energizes" the water in the sense of a revitalization. There are no serious, neutral indications for the effectiveness of the methods used by the manufacturers. None of the claimed effects on water has ever been scientifically proven.
Procedure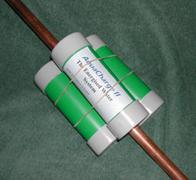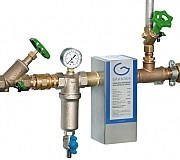 Grander water revitalizer, built into the water pipe
Some people simply put a metallic object or crystal in the water. "Vibrations" or "information" supposedly emanate from these objects, which would then be transferred to the water.
There are adapters and devices that are built into the water pipe (or a faucet) and are intended to enliven the water flowing through through the built-in components or crystals they contain. Many of these devices work without the addition of energy.
There are very many devices on the market which are simply attached to the outside of the water pipe and which - usually also without energy supply - are intended to improve the water with regard to its "frequencies" and "vibration patterns". Examples: Merus Ring or Johannes-Wasser. Many of the products contain fillings made of rock flour or sand, which are known as "informed crystals" or the like.
Other providers bring already treated water close to the water to be influenced. This would have the desired positive effect. Example: Grander water.
It is also very popular to expose the water to the light of the full moon, for example in a glass bottle. The users assume that the water is levitated or revitalized by the full moon. They often justify this with a stimulation that a full moon is supposed to trigger in living beings, such as increased activity of perception and general well-being. The water absorbs information from the moon that is not described in detail and passes it on to the person who drinks it.
"Water revitalization" with magnets is also advertised.
Many suppliers state that the water to be treated is set in a circular motion by their product. Such devices, known as "water swirlers" or "water swirlers", are intended to improve the quality of the water by means of mechanically generated eddies or eddies. Viktor Schauberger is often referred to in advertisements for this. A system used in Australia, for example, consists of several turbulence cylinders connected in series, in each of which certain foreign particles are to be removed. Other devices consist of a simple piece of pipe that connects two bottles of mineral water. When transferring from one bottle to the other, an "increase in the vibration of the water" should occur. According to Schauberger, water is also passed through double twist pipes, which hyperbolically swirls and "charges" the water.
"Levitation" of water after Wilfried Hacheney. According to Hacheney, a postulated "inner surface" of the water is composed of the surface of the clusters of the water. Water that arises naturally from springs against gravity has a very small cluster structure with cluster diameters in the nanometer range. However, when water is forced through pipelines under pressure, the clusters are pressed together and combine to form larger clusters with a diameter in the micrometer range, the inner surface is thus reduced. The larger the inner surface, the more "active" and therefore healthier the water, says Hacheney.
Claimed Effects
In some places it is claimed that the product in question gains in (albeit not measurable) "bioenergy" or "energy potential". Individual water clusters would "dance" after being revitalized and their "cluster structure" would shrink. Corresponding water products would also "reach the cells" more quickly, "detoxification processes" that were not explained in detail would accelerate, and in addition, the consumer's states of fatigue and concentration disorders would decrease.
The Austrian physicist Herbert Klima is quoted as saying that research by him at the Atomic Institute in Vienna would show that measurable changes actually occur in methods of water revitalization. With the help of spectrophotometry, Klima has provided direct evidence that the water structure is significantly influenced by a water-revitalizing treatment. From a physical point of view, the water is not the same before and after what is known as water turbulence, even if there is no chemical difference.
Consumer advocates and scientists have pointed out the ineffectiveness several times. Court rulings have also been issued for misleading consumers or for fraud. The sale of water treated in this way with health-related advertising is prohibited and would be illegal under pharmaceutical and food law in Germany if the alleged effects could actually be proven. The manufacturers would then first have to prove the harmlessness of the water. In Germany, water is considered a foodstuff for which no health-related advertising may be made according to the LFGB (Food and Feed Code).
A distinction must be made between such products and water that is distilled or purified by filter or reverse osmosis. For the treatment of tap water as normal drinking water, however, the use of corresponding systems, which are intensively advertised for home use, is controversial. Some manufacturers of filter and reverse osmosis devices also advertise with the esoteric and pseudoscientific arguments mentioned.
Typical products and product names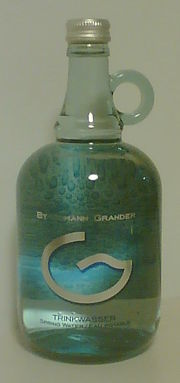 Corresponding products are offered with the terms revitalized, levitated, energized, vitalized, activated, formatted, structured, informed or harmonized water and under a large number of product names; the following list only contains a part of the products offered in the German-speaking area in recent years:
AcquaPhi (Christian Lange, Kassel), an egg-shaped flow device and, according to advertising, a "full-frequency spectrum water revitalization device". It contains a tangled pipe,[1] Gaps are filled with "fine powders made of mica (mica), EM ceramics, zeolite, primary rock powder and shungite".
Aelquivita "energized and informed osmosis water" (Mediana drugstore, Mörsdorf)
Objects made of Agnihotra clay (Michael Wüst, Lorsch), e.g. "water eggs" or a twist tube, which should improve the taste and quality of water and drinks "through the energetically active clay"
AHSG activators and harmonizers (GH Blohm & Partner, Altkalen) are banderoles and stickers made of paper that give off "life-promoting energies and information" through a special treatment. The abbreviation AHSG stands for "activators and harmonizers for energy for living with an integrated mirror law".
AlkaStick, a stick made of perforated sheet metal for immersion in a vessel with water. By filling the rod with, among other things, "far infrared stones" and "nanosilver powders", the water becomes alkaline (up to pH 9.5).
Amanda Bags and Amanda Cylinders, attached to the outside of the water pipe, are supposed to "free the water from its subtle pollution" (Amanda Energieprodukte, Affoltern, Switzerland)
Amezcua Bio Disc, a round glass disc to be placed in or near water vessels
AMTCM water vitalization stones (SAN-U-VIT GmbH, St. Johann im Pongau, Austria). AMTCM stands for "Applied Modern Traditional Chinese Medicine", an invention and registered trademark of the Bavarian doctor Georg Kneißl.
Aniqua-Orgone, a filter device with "Orgone Active Technology" (Orgone Water Max Hartmann)
AQA 707 water energizer from inventor Dieter Jossner (Airtraxx GmbH)
Aqua blue
Aqua Bonvita (Dr. med. Manfred Rufus Minzlaff, Rosemarie Minzlaff, Munich), a glass ampoule filled with mineral water that can transfer "positive information" to other water
Aqua-Cel (Ditra nv, Izegem, Belgium)
Aquadea (Wasserstelle GmbH, Maisach). "Vortex showers" are offered, in which, for example, "diamond vortex chambers with faceted brilliant-cut diamonds" are installed
AquaElix drinks and other products (Mundus GmbH)
Aqua-Global water filter (aqua-global GmbH, Rietberg). With the devices sold by MLM, the water is not only filtered, but "brought into the vibration level of nature using bio-photon energy".
Aquakat (Penergetic AG)
Aqua-Levita (see Aqua Power Joint)
Aqua-Lyros water activators
Aquantine
Aqua Optimizer (Karl Hans Welz). The devices are also advertised as "orgone generators with double action", which first "revive" water and then "charge it with life energy".
Aquapel
Aquaperle (Bürger-proSanitas, Ehingen)
AquaPhone tuning forks (Aqua-Energetics, Paul Jakubczyk, Weimar). "Using a biophoton resonance process, we program the tuning forks with the vibrations of pure natural spring water and selected positive information", etc. Jakubczyk is currently working for the company Sonnenstein GmbH in Pirna. The Sonnenstein sells spring water for € 9.28 per liter with the pseudo-scientific advertising message that the water sold is "clockwise" and comes from a depth of 250 km. Pipes that are not screwed and do not have a right angle to an assumed one should also be used "special crystalline structure" of the water not too "to destroy".[2]
Aqua Power Joint water revitalizer (also available under the name Aqua-Levita) and Aqua Power Kalkmagnet (AQUA POWER Wasservitalisierungsgeräte GmbH, Austria, see also Vita Tronic)
Aquaquant
AquaRon (company Vitagon, Switzerland, formerly Vit-Theragon, Landsberg). The metal sleeves to be attached next to the water pipe would "photonize" the water using a method invented by Karl Heinz Fuchs.
Aqua Royal (Aquaroyal Heinz Vogel, Radolfzell)
AquaSAqua (Nagykovácsi near Budapest, Hungary), also known as "boundary layer water", "water with changed physical properties". The chemical formula is "H2O", but apart from that it is "not at all similar to the water you drink". A Russian physicist named Sergey Postnov is named as the inventor.
Aqua Sinus Plus (sales by, among others ,wohnGUT Vertrieb GmbH, Sonnefeld)
Aquator (originally from Wekroma Bioenergetische Produkte Vertriebs GmbH)
Aqua-Vit water revitalization (aqua-Vit Peter Pock, Passail, Austria). For the flow devices, among other things, a "longer shelf life for fruit and vegetables after washing" and a "better effect of Bach flowers and homeopathy" are promised.
Aquavital Kalkmagnet (Aquatec Produktions- und Vertriebs GmbH, Fohnsdorf, Austria)
Aqua-Vital-Foil (UH-Vital-Systems Ulrich Holst, Balje). A piece of foil that is wrapped around the water pipe
Aqua vitalis by Martin Keymer
Aqua Zeppelin (Marina and Hans von Zeppelin, Sauldorf). By attaching the "Aqua Zeppelin Room" device to a central heating pipe, every connected room would be "harmonized".
Aqua-4D (Planet Horizons Technologies)
Aquion water (Aquion GmbH, Dieburg). Water filters are sold which are supposed to generate "light water" through an additional module. In doing so, "aquionized water is charged with modulated infrared light". The physicist Michael König determined "an average increase in the light concentration of 21.6%" in test subjects who drank this water.
AROPUR (C.D.W. Litterst Biophysical Technology e.K.)
Alkaline water
Beonizer (BeonMedia GmbH, Frankfurt am Main), an attachment for water taps that is swirled, magnets and a quartz granulate filling[3] against limescale deposits and act as a "plant growth promoter", "taste improver" and "diffusion accelerator"
BestWater water filters (BestWater International GmbH), for which apart from the filter effect with an "energization through the in-photonization technology" and similar nonsense is advertised
Biochemistry system (Zum Druidenstein, owner Hermann Stoll)
BIONIC WATER (Aquabionica, Moscow. The branch in Vienna has Aquabionica as a trademark in many countries). After an "informational zero setting", the water is "structured with particle splinters of certain mineral groups in certain correlations and proportions".
Bion-pad eat & drink (bion-tec GmbH, Hegall Vollert, Radolfzell), a silicone pad that is able to "positively influence the pH value" and "optimally align water"
BIOPOL environmental harmonizer
Bormia spring water generator according to Althoff
Bubble-Rain shower head (Wolf Umwelttechnologie GmbH, Waging am See). A "clockwise rotating vortex chamber" is intended to "vitalize the tap water".
Crystal-E (Dr. Reinwald Healthcare GmbH + Co. KG, see also Alphaquant and VitalWave). This liquid food supplement consists of "colloidal liquid crystals from active hydrogen microclusters". This not only "energizes" the water in the body and improves its "information properties", but the product can also "promote the natural feeling of thirst".
Crystal Water Vitalizer (Crystal Water Natural Perfect Solution GmbH, Regen). Tubular flow devices that would cause "bio-photon enrichment" that would be "visible to the naked eye".
CS bottle (New Generation Bio company from Herbert Renner from Burgkirchen, Austria). A water bottle made of aluminum, as they are available for hikers, but which have special health benefits due to a "BIO energetic effect". The bottle is also available as a "cell stimulation water bottle" or "metabolism bottle".
Devajal water swirler
Diamond water
ec-H2O technology (Tennant GmbH & Co. KG, Kirchheim / Teck) for the "electrical activation" of water. The German branch of the US company Tennant, a manufacturer of cleaning machines, advertised with the following statement: "ec-H2O technology - activates water so that it acts like a powerful cleaning agent." This was forbidden by the Stuttgart Regional Court as misleading advertising.[4]
Elisa spring water systems
Ellmauer Wasserveredelung (EWV Ellmauer Wasserveredelung GmbH, Going, Austria). "Vibrations" of Bach flowers are to be transmitted to the flowing water by means of "info mats" on pipes. The water is then beneficial for health and is also particularly suitable for preparing ski slopes, since the snow it creates does not melt as quickly.
Energy block (BioEnergieFabrik.ch AG, Balgach, Switzerland), a block made of plastic (PE) that transfers "highly potentiated and permanently stored vibration information" etc. to the water to be treated
Power wire
Archangel Gabriel Energiefoto (Ute Schmidt, Dessau-Roßlau). Glued to the water inlet, the photo would "energize" the water.
EWO water revitalization devices (EWO Deutschland GmbH; EWO stands for "Energy Water Optimization")
Gara (Gara radionische Systeme GmbH, Eggenthal). Various products, e.g. GaraLand, consisting of "radionically and individually informed PV bottles" and a "radionically informed stainless steel block"
Geospring water activator (company GeoWave)
GIE water activator (AQUA LIGRO GmbH & Co. KG, Lippetal-Lippborg)
Glass drinking straw for swirling water (energy and life, Hannes Epting, Pfronten). A glass tube with grooves on the inside, somewhat like a rifle barrel
Golden water power (Golden water power KEG, Ing.Rüdiger Kaun, Wels, Upper Austria)
Grander water
Graviton
H2nanO Transformer (H2nanO BdV, Lüneburg. There is no connection to the Canadian company H2nano, which offers processes for wastewater treatment)
H2O3 ("H 2 O to the power of 3"), a strongly alkaline solution (pH = 13) offered as a "water concentrate" from a company H2O Swiss AG with alleged miracle effects of health and other kinds
Universal harmonizer
Hexagonal water by the Korean Mu Shik Jhon, also known in Germany as the Hexagon water by Walter Häge
HoloCell water treatment (Zeitenschrift shop), pipes to be attached to the outside of the water pipe, which are filled with "vibration carriers", "including coral powder, precious stones, colloidal gold, effective microorganisms and light waters"
HYDROFIX-magnet, HYDROFIX-mineral (Hydrofix Umwelttechnik, St. Veit / Glan, Carinthia, Austria)
Ideal Water water filters (Ideal Water AG or Ideal Water Ltd. or Power Water Systems AG & Co. KG, Bamberg), for which, in addition to the filter effect, "remineralization through healing stones" and "energization with photons" are advertised
Ifane water transmitter (Hubert Huessner, Lingerhahn). This stainless steel pipe works "beyond polarity from the field of activity of the 5th dimension and acts alternately and simultaneously on all 12 levels of human nature."
Johannes water
Kraftwasser (KraftWasser GmbH, Thalwil near Zurich), a "unique combination of lime converter + water revitalizer"
Crystal water (NovaVitalis Handels GmbH, Ahlefeld-Bistensee). In this water, an invention of a Dr. Norbert Fenten, Klaus Volkamer claims to have demonstrated a "subtle field". By drinking the crystal water, "obviously deficient cell components would be increasingly transported out of the cells".
Light water and water of life
Light quantum water activator, a rod filled with "light quantum powder"
Magnolite "Kalkmagnet" (EWL Umwelttechnik GmbH, Munich), a device that was positively assessed by Hagalis AG
Martin water vortex (Fischer GmbH, Bad Fallingbostel). The company Fischer has the word mark Eddy water protect, it describes "water that has passed through the original Martin water vortex".
Master Power Plates and other products of the 90.10. AG from Bern
Maunawai water filters (Green d'Or UG, Werder, Brandenburg), which, among other things, "purify the water finely and delete information about harmful substances". Walter Medinger claims to have found "a positive resonance signal at 22.5 Hz" in the water, which is a "confirmation of the special quality of this water".
MEFAGO "regeneration converter" for installation in the water pipe. The program also includes "regeneration water" with "over 30,000 Bovis units", which can "harmonize the entire meridian system" (Wolfgang Pöhler, Dörrebach; former trade name: Aquamedicus)
Mediagon (Engeli & Partner, Mediagon water treatment, Horn, Switzerland)
memonizerWATER (formerly: memon WaterTransformer)
Menalit Aqua (Sonja Gysin, Buckten, Switzerland). A "selected mixture of precious stones in resonance bodies" called "Menalite", an invention of the Swiss Urs Surbeck, guarantees a "particularly high energy enrichment and resonance effect", is based "on quantum physical knowledge", etc.
Merus ring
Monade water vitalization devices (Monade, Josef Schweinberger, Bad Wörishofen)
Mondquelle (formerly also Aqua Luna) and Mondquelle "Vollmondabfüll" (St. Leonhards-Vertriebs GmbH & Co. KG)
MyAqua water converter (H2innovate GmbH, Taunusstein)
Narasan Technologie (LWS Living Water Systems Wassertechnik GmbH, Vienna)
Ojas water revitalization (Soyana company, Schlieren, Switzerland)
Organo (organo.SL GmbH, Tittling)
Pejosan beverage refiners (Pejosan GmbH, Peter Jürgen Pejot). The product, which has been patented since 2008, is said to be able to "reformat" water and cause oxygen enrichment.
Pen yang pass pulse generator
PERL (Urmoor GmbH)
PI water treatment / PI Cell Vitalizer (PI Technology Europe / KNOVO Handels- und Beteiligungs GmbH, Salzburg). See also: PI water
Plocherkat
Positive water revitalizer (Werner Scheidl, Schrems, Austria), a flow device that is supposed to reverse alleged negative changes in tap water "on its way to the end user"
PURquell Wasservitalcard and PURquell pool and pond revitalizer (raumvital paul sommer, Schleusingen)
Pyramid bottle from the mason jar manufacturer Weck. This vessel is not advertised by Weck itself, but by a number of esoteric dealers as being suitable for the "harmonization" of water.
Quantum spring water (Stephan Rädler and Anja Kreinest, Vlotho, North Rhine-Westphalia), whose health-promoting effect is based, among other things, on a "very high excess of photons", is drawn from a normal water pipe. The installation can be carried out by the provider "via consciousness and the quantum water field without having to be personally on site."
Q-Aqua, a "energetically upgraded" mineral water through a "bioresonance process"
QIT Technology (Blaho OG, Piberbach, Upper Austria). The "quantum information transformers" QIT Home and QIT Mobil are not only suitable for water revitalization, but also as calcium dissolvers and "radiation harmonizers".
Rayo-Aqua water activator
Sanacell water filter (Sanacell Handels GmbH, Berlin). According to the manufacturer, the water is not only filtered, but also made "swirled" and "clockwise" beforehand.
Schauberger funnel (various providers, e.g. Wytor AG, Laupen, Switzerland, and Fischer GmbH, Bad Fallingbostel)
Meaning / transformation aid water (Sabine Glaser, Fichtelberg). Plastic cards the size of a credit card, which with the help of a "soul intelligence of mother earth" convert water into "sunlight water" and remove "stresses" from it
Spiral pipe or helical pipe (various providers, e.g. Fischer GmbH, Bad Fallingbostel). Normal copper conduit that is twisted or has a spiral notch
Flaska drinking bottle, a glass bottle for drinks with esoteric miracle properties
TIENS water and e-smog transformers (Tianshi GmbH, Berlin)
Tiroler Sonnenkrug (Kisslinger Kristall-Glas, Rattenberg, Austria). A glass jug, in the bottom of which there is a bubble with spring water that is supposed to give "original information" to the water in the jug
Trionix UG (formerly: Pronox innovative Bioenergetik UG, Christof Meisterjahn, Sundern). Among other things, the "devices" AQUAGON and AQUANTERRA for "levitating water revitalization" (blocks made of beech wood with holes that are partially filled with mineral granulate) and the "water energy wellness device" MEDIOGON are offered.
Twister Vitalenergyzer (Vital-Energy, Hausmening, Lower Austria). A battery-operated mixer for "vitalising" beverages
UMH environmental technologies
Urs Surbeck concentrate (SwissQuella GmbH, Buckte, Switzerland)
Vi-Aqua (Solar Organic Solutions Ltd, Limerick, Ireland). Devices that are supposed to "energize" water by emitting electromagnetic waves in the frequency range 27 MHz (wavelength approx. 11 meters) in such a way that crops irrigated with them deliver considerably higher yields.
Vita Juwel gemstone water
Vitalizer water activator (ESP Consult, Mauren, Liechtenstein)
Vital carafes from Thomas Chochola
Vital sparkling wine (Böhm & Egger GmbH, Untrasried). The manufacturer also deals in reputable water treatment products.
Vital stick or "energy stick" (Prime Inventions GmbH)
Vitaltron 2000 (Vitaltron Marcel Deriaz, Pfäffikon, Switzerland). The device enlivens "water within a radius of at least 50 cm by transmitting electromagnetic waves." Vitaltron also sells the "interference suppression device Vitaltron2010", which generates a weak electromagnetic field and is supposed to help against earth radiation and electrosmog.[5] To substantiate this, reference is made to a "study" by the relevant Hagalis AG.
Vitawass (Rainer Diehm, Rimbach). A hinged ring that is placed around the water pipe. It contains "the properties and energies of four very good spring waters" and initially transfers them to the water pipe, from where they should get into the tap water "gradually and with the help of the water column".
Vita cells, e.g. an "energy water cell" (VitaLation, Christian Schneider, Leverkusen). The egg-shaped structures should be placed in a glass of water and there released "original frequencies". Unfortunately, "for technical market reasons, no further information about the production" can be given.
VortexPower AG (Forch / Zurich, Switzerland). Various products that should be able to "revitalize conventional tap water based on the vortex technology based on nature's example".
Water former from the Austrian company Quinta Essentia
WasserOrgano (organo.SL GmbH, Tittling)
Water pearls (Biotac Consulting, Blonay, Switzerland). Drop-shaped glass beads, which promote a "re-information of the water" and are also intended to develop advantages in bodies of water, rain gutters and cisterns
Waterfit (Ensatec Energiespar- und Wassertechnik GmbH, Schwechat-Rannersdorf, Austria). The flow device promises many advantages through turbulence, a "lime processing", after which the "lime molecules are now smaller and rounder", and a "frequency technique" that works with crystals. The provider relies on Nicola Wohlgemuth and the appraisals of Hagalis AG, among others.
Water Guard (rayXwell, Trautmannsdorf, Austria). A water jug, an "energy converter disk" and the "water guard cuff" are offered.
WaterStar, a carafe designed by Masaru Emoto, in which stones melted into the ground would give off a "positive frequency spectrum" to the water (Winestar GmbH, Vienna)
Water star, a structure made of gold-plated brass to be attached to the water pipe (CF energetic Vertriebsgesellschaft mbH, Freising)
Water-Wing-Sticker, also Wa-Wing (Earth Angel Family Vital GmbH, Norderstedt), a sticker of 8 cm diameter to be attached to the water pipe, where it says "pipe, lime, any pesticide, hormone, and other negative information "neutralize
Weber-Isis water activator
Wellan 2000 Biosignal water handler (WELLAN GmbH, Asperg)
Wellnesswirbler (Wellnesswirbler GbR, Clausthal-Zellerfeld)
Whirlator (Bionik Technologie GmbH, Porta Westfalica), a flow device for inserting into the pipe of taps and showers, creating an "extreme, natural swirling of the water, like a 100 m high waterfall". Furthermore, the calcification is reduced and a "germ reduction on the microbial surfaces in the inner workings of the whirlers" is brought about. As a result, the device is also "ideal for implementing the new drinking water ordinance".
Wirbelei (Prime Inventions GmbH)
Zaro eclypsi and other products from Zaro Biotec Robert Zach
Zirbenkugeln (Zirbenkugel OG, Tulfes, Austria) are balls turned from the wood of the stone pine, which should be placed on a water jug ​​for half an hour, which improves the taste of the water and "has a beneficial effect on body and mind"
3Quellen (Denk-Aqua GmbH, Coburg). A flow device is offered under this name, which is supposed to bring about "water activation" through "movement" (here one invokes Schauberger), "minerals" and EM ceramics, as well as a "pulsator", an object that is placed in vessels with drinking water inserted according to the same principle.
literature
Helge Bergmann: Water, the miracle element? Wiley-VCH, 2011
Web links
References
↑ Utility model DE 202006001589 U1: Egg-shaped bioharmonizer for the transmission of homeopathic frequencies through water. Owner: Lange, Christian, Dipl.-Ing., 34123 Kassel. Date of entry: May 24, 2006. Expired: 08/01/2009
↑ https: //www.sz-online.de/sachsen/das-heilwasser-vom-sonnenstein-3921423.html
↑ Utility model DE 202012006599 U1: Magnetic single and multi-chamber swirler. Owner: Eltz, Andreas von der, Dr., Frankfurt. Registration date: 07/10/2012
↑ Judgment of the Stuttgart Regional Court of June 14, 2013, Az. 31 O 52/11 KfH
↑ http: //www.vitaltron.ch/vitaltron-2010.html