Do Bollywood films affect society?
Mirror of society or dream world?
Infinite love, exuberant joy, deep sadness and difficult challenges: In Bollywood films, the love of the hero and the heroine is often put to the test and their willingness to make sacrifices is tested. Bollywood films are like a roller coaster ride of emotions. They are basically fairy tales in which in the end every viewer has the certainty that there will be a happy ending. M. Madhava Prasad, professor of film studies in Hyderabad, says that it is precisely this aspect of Bollywood films that contradicts the people of India: "Certainly our films influence the people and society in India. But the films also show a reality that has nothing in common with the reality of the audience. "
Hard reality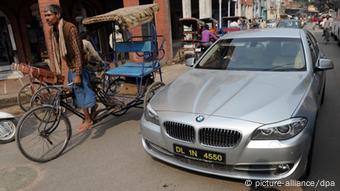 Rich and poor: many people in India dream of the life of the rich
Indian society is a deeply hierarchical society. The caste system was officially abolished with the 1950 constitution. But it is still practiced mainly in the countryside. Indian society has become more open and tolerant as a result of the economic boom that began in the early 1990s and advances in literacy and education. But while all boundaries between lovers can be overcome in the film, the reality is different.
Only a fraction of the 1.2 billion Indians live in the glittering metropolises of Delhi, Mumbai, Kolkata and Chennai. According to the last census from 2011, two thirds of the people still live in rural areas and work directly or indirectly in agriculture. 90 percent of all weddings are still arranged today, as statistics from UNICEF from 2012 show - even if there are now more and more couples in cities who first learn to love each other and then are married to each other by their parents in order to strengthen the relationship legitimize.
Marriages between Hindus, who make up about 80 percent of Indian society, and Muslims, who make up about 16 percent of the population, are extremely rare. But Bollywood overcomes these taboos in films like "Bombay" (1995), "Revolte" (Gadar, 2001), "Veer and Zara" (Veer Zaara, 2004) or "Jodhaa and Akbar" (Jodhaa Akhbar, 2008). And stars like Shah Rukh Khan or Saif Ali Khan are idols because in real life as Muslims they married women of the Hindu faith.
Mirror image or dream world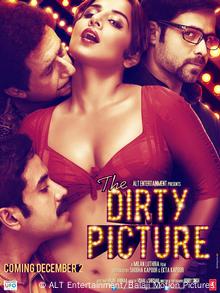 Poster for the film "Dirty Picture": Leading actress Vidya Balan in the center of male interest
The director Kunal Kohli is known for romantic films like "Crazy About Love" (Hum Tum, 2004) or "Destruction" (Fanaa, 2006). When asked to what extent Bollywood can really change society, he replied to Deutsche Welle with skepticism: "If the films really influenced people, then we would all make each other laugh and dare to fall in love much more often. But that It just doesn't happen. The films don't particularly affect real life, even if they are based on real life. "
Renowned author Javed Akhtar goes one step further: "The films certainly reflect what is going on in society. But above all they reflect the wishes, hopes, values ​​and traditions. So they are not a real reflection, but a dream that society dreams. "
"Cinema is entertainment"
The multi-award winning film "Dirty Picture" with Vidya Balan in the lead role, which was released in 2011, got to the heart of the question of which films will reach the audience. The film tells the life story of "Silk Smitha", a South Indian erotic actress. He traces how the self-confident woman achieves fame, but in the end, excluded from society, sees no other way out than to take her own life. In the film, Vidya Balan says, disappointedly, "To make successful films, only three things are necessary: ​​entertainment, entertainment and entertainment." That is how film scholar Ranjini Majumdar from Jawaharlal Nehru University in New Delhi sees it: "After all, cinema means entertainment. We cannot expect directors to show the harsh reality of society. That is not their job in commercial cinema . "
But "Dirty Picture" underlined another important trend in Bollywood cinema. For a long time women were only decorative accessories. But now more and more films are being made that focus on strong - and often successful - women.
Reality is an exception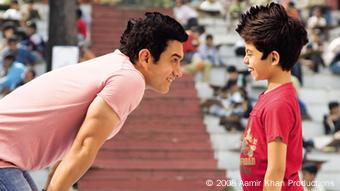 Eight-year-old Ishaan is marginalized in "A Star on Earth"
Only a handful of films have actually depicted the reality of life in recent years. These include, for example, Vishal Bhardwaj's "The Godfather of Mumbai" (Maqbool, 2003) or Anurag Kashyap's "Black Friday" (Black Friday, 2004). "The Godfather of Mumbai" takes place in the mafia milieu, and "Black Friday" deals with the unrest between Hindus and Muslims based on events that actually took place. Although many critics praised these films, they have only been shown in a few cinemas in India and at film festivals outside the country.
Serious themes, loosely and easily interwoven with the dream world of Bollywood, on the other hand, have films such as "Wedding - No, Thank You" (Salaam-Namaste, 2005), "A Star on Earth" (Taare Zameen Par, 2007) and "Real Friends" ( Dostana, 2008). "Wedding - No, Thank You" shows the troubles of a radio presenter who is unintentionally pregnant and is abandoned by her boyfriend. In "A Star on Earth" a little boy is excluded from his family and society because he cannot understand words and texts properly. "Real Friends" addresses the issue of homosexuality, a major taboo in India. But more realistic approaches are still the exception in Indian cinema today.