School sport in Germany
Physical education is part of the curriculum in every state. But with too few hours. Some think so. Because the Germans move less and less and are getting fat. Sport is not as important as other subjects, say the others. The students just like the subject.
Running, jumping, playing - this is not only fun, it is a wonderful contrast to the classroom for pupils: don't just sit still and be calm. 12-year-old Moana from Berlin agrees. She is in the sixth grade of an elementary school. Sport is one of her favorite subjects, along with art and history. "Sport is just fun," she says. "Much more than other subjects." What she particularly enjoys, she cannot say. "Simply everything." At the moment the class is practicing relay races intensively and often playing ball games, she says.
Physical education is popular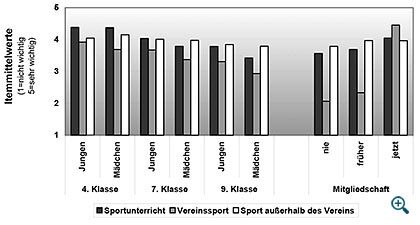 Relevance of sport in different settings (physical education, club sport, sport outside the club) | © Der Deutsche Sportbund: "The SPRINT study. An investigation into the situation of school sport in Germany "
Relevance of sport in different settings (physical education, club sport, sport outside the club) | © Der Deutsche Sportbund: "The SPRINT study. An investigation into the situation of school sport in Germany "
Most boys and girls think like Moana: 75 percent look forward to physical education, only 13 percent could do without it. This is what the study "Physical Education in Germany" found in 2006. It is the only study on school sport that has been carried out in Germany so far. To this end, teachers, parents and around 9,000 pupils from fourth, seventh and ninth grades were surveyed. Some of them have their say in the study: "You are not good at school without sport," says a 10-year-old boy. "You have to be able to let off steam, then your body becomes freer." A 15-year-old also thinks: "If I had a stressful week and exercised on Friday, then I can forget everything." The enthusiasm for physical education is in the fourth grade, however, larger than in the ninth. It subsides a bit in the teenage years, especially in girls.
First of all exercise
Usually two or three hours of exercise are taught per week. The exact way in which physical education takes place differs in the federal states. Because: Education issues in Germany are the responsibility of the 16 federal states. In addition, physical education differs depending on the school level: "In elementary school, fun and games are the top priority," says Professor Dr. Claus Buhren, head of the Institute for School Sports and School Development at the University of Sports in Cologne. "It's pure movement lessons." The only requirement: The children should learn to swim and take off the swimming badge, the so-called "seahorse".
A wide range of sports
In lower secondary school, girls and boys learn different types of sport. "The teacher has to offer a wide range," says Buhren. "The children should get to know the versatility of movement." And they should experience that sport is fun. The lessons should motivate people to do sports in a club in their free time. In addition, the subject should also "convey social learning", says Buhren. This means that the children learn to play in a team, to compete against each other, to win, but also to lose and to remain fair. For Moana from Berlin, fairness is particularly important. If other children don't play fair, it spoils their enjoyment of the sport. "Many just want to win," she says. "But for me it's about having fun." Winning or losing is not so important to her, the main thing is that it is fair.
Learn some sports intensely
In the upper secondary level, students take basic and advanced courses for individual sports. "From then on I really enjoyed sport," says 20-year-old Claudia from Oldenburg. "In the twelfth and thirteenth grades we each concentrated on one sport for half a year". Claudia could choose, but had to do two team sports and two individual sports. She has chosen badminton, table tennis, athletics and rhythmic gymnastics. She liked badminton the most, she says. "Because I was very good at it." She had played it before in a sports club. She benefited from that at school.
The 25-year-old Rouven Schleifer from Cologne remembers how a list was posted at his school at the beginning of the eleventh school year. "The teachers entered their sports offer and I could choose." That was volleyball and badminton in the first half of the year. Since he attended a sports high school, two sports were performed every six months. There was a large selection: beach volleyball, handball, Nordic walking, table tennis. After leaving school, he studied at the Sport University in Cologne and is currently doing his legal clerkship as a sport teacher. Sport has always been with him, he says. So it should be the same at work. What he particularly liked about physical education at school was that he was able to compete with others there. "I'm a competitive guy," he says.
Rouven Schleifer on school sports in his school days

Improve athletic performance
And what do most other children and young people find important in physical education? When asked what aims the lesson should have, most of the boys and girls in secondary level I and II chose the aim of "improving athletic performance" in the study. For them, the lessons could even be a little more difficult and strenuous, they said. They also find the subject important because it promotes health, balances out other subjects and is also relaxing.
Even if physical education is popular, the students want more variety and more new sports - especially in secondary school. Not only athletics, gymnastics, soccer or basketball, but also trend sports such as dancing, baseball, martial arts, inline skating and climbing. So far, they have almost never been used in physical education.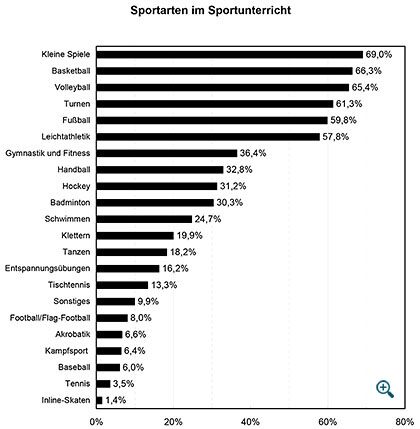 The sports performed in a school year in physical education | © The German Sports Confederation
The sports performed in a school year in physical education | © Der Deutsche Sportbund: "The SPRINT study. An investigation into the situation of school sport in Germany "
More recognition for the subject of sport
Sports scientist Claus Buhren finds it problematic that too many sports lessons are canceled. In the event of a lack of teachers or illness, they are deleted far too often. "The three hours allotted for secondary education are often not taught at all," he says. "Because some teachers and school administrators think that you can do without sport." He would generally like more recognition for the subject, especially in view of the increasing number of fat children and young people in Germany. "15 percent of the students are now overweight," he says.
More sports lessons against obesity?
A common reason given for weight gain is that young people sit too much in front of the computer and do not move enough. Some scientists, educators and politicians would therefore like to increase the number of weekly exercise classes. Claus Buhren is also in favor - but he advocates every additional minute of exercise in the school anyway. "The children won't lose weight as a result," he says. "Because the reasons for being overweight also run in the family."
For younger children who are overweight, however, more exercise lessons are important, he says. "Physical education can increase their motivation and show them that exercise is fun." On the other hand, critics counter that even an extra hour or two would not help against being overweight. Those who don't like to move will find an excuse for these hours too, they say.
Claus Buhren sees it as the sport teachers' duty. Because whether an overweight child enjoys exercise often depends on them. "But some people ignore these children and turn to the fit ones," he says. And that creates a big problem: children who don't want to move and teachers who don't take care of them. That has to change, said Buhren. Because: having fun in movement is the key.
Professor Dr. Claus Buhren, Head of the Institute for School Sports and School Development at the University of Sports in Cologne, talks about school sports in Germany
What is it that defines physical education in schools in Germany?
Is school sport especially important for the children who do not play any sport outside of school?
How often do physical education classes take place in schools in Germany?
How has school sport developed compared to your own school days?
How can school sports be improved today?
How important is school sport today?
Katja Hanke
is the author of the article and works as a freelance journalist in Berlin.
Nina Kleinsorge
as a student intern at the Central Office for Schools Abroad (ZfA) conducted the interviews with Professor Dr. Claus Buhren and Rouven Schleifer.