Wealthy people buy life insurance
Millionaire Whisperer: With this knowledge, finance professionals score points with wealthy customers
I don't have to tell you that wealthy customers are particularly lucrative. What many consultants misunderstand, however: looking after a 2 million euro client is hardly any more work compared to a 20,000 euro client. Nevertheless, many financial intermediaries hesitate to bait "big fish". It's not that difficult to get hold of this elite. You just have to understand what makes the wealthy tick. Guest contribution by Marcus Renziehausen, The Engineers of Finance AG
Every year the consulting firm Capgemini publishes the World Wealth Report. This gives an insight into how many wealthy people there are in Germany. This includes anyone who has more than a million dollars in investable assets as freely available capital. In 2018 that was around 1.36 million "High-Net-Worth Individuals" (HNWI) nationwide. Not only financial professionals can work out how much unused potential is wasting here.
(No) fear of rejection and arrogance
If you compare this pound with the activities on the part of financial advisors, the individual chances for a lucrative business even increase: Many brokers deliberately leave these rough diamonds behind. They simply do not dare to speak to such rich people at all. Many fear that wealthy customers are a size too big for them and that they will not find access anyway. The second misconception is that HNWIs are too hotly contested and that their acquisition is exhausting and terribly complicated. However, study results from the USA paint a different picture of the situation.
The Oechsli Institute shows that more than 90 percent of the very solvent customers found their financial advisor by referral (Figure 1). So there is no need to devise extravagant acquisition methods or send private detectives on patrol to get to the treasure guards. It is and remains important that you do a good job! And that you build up a network piece by piece with people who have access to financially strong contacts. Both actively and passively, you ensure that your favorite potentials contact you via recommendations, cultivating relationships or professional networks.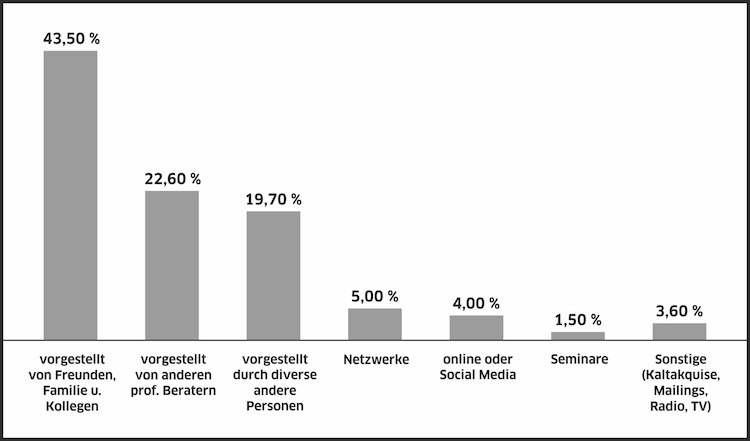 Gold rush mood - no competition in sight
The second sensation: almost half of this exclusive target group had not been contacted by a financial advisor once in the past twelve months (Figure 2). So you would knock on the door for every second person without competition! With a further 26.8 percent, the competition has made a maximum of two acquisition attempts - that sounds more like a formal obligation than a desire to succeed. Financial advisors leave very great opportunities here. Because many simply do not know what makes the rich tick, they fish in murky waters - or not at all. But what exactly do the wealthy expect from a financial professional? What offer can you inspire them with? Do you appreciate old leather armchairs or do you expect smart services on the tablet?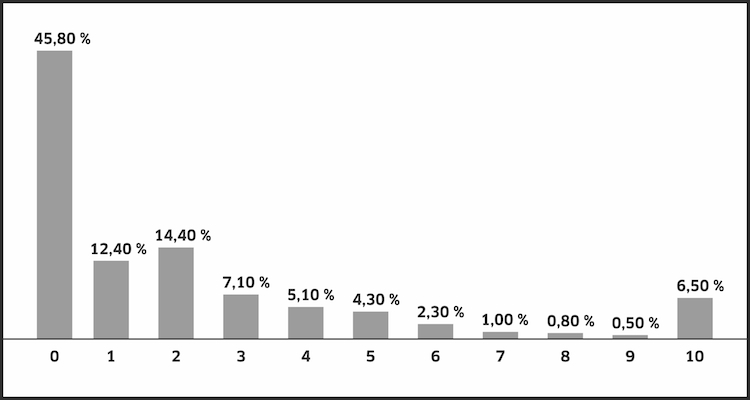 This is how it works with the exclusive target group:
1. Understand listening and fear of loss
Many consultants make two crucial mistakes when dealing with large customers: They talk too much about the products and listen too little. Time is the most important thing you can invest here. Inattention lures many consultants into the second trap: They think that the return on an investment is the most important thing for the wealthy. Studies show the opposite: More than 90 percent are more concerned about losing their existing assets. Fear of loss beats longing for profit. Those who take this into account in their advice can convince high earners in a completely different way.
2. Be sensitive to contacts
If you want to dive further into the network of the rich, you can ask your clients for a recommendation. But please not according to the "Who else do you know?" - wooden hammer principle. Professionals provide the names right away: "Matthias, I would like to get to know your friend Jan" or "Mr. Schuster, when will you be playing squash with your colleague Jan Müller again?" Wealthy people feel very uncomfortable when asked about contacts. But more than 75 percent would introduce an acquaintance to their financial advisor if he asked for him directly by name.
3. Take courage and trust
Financial advisors should always provide the best service. Those who work like this have no reason to be intimidated by large numbers or important names. Head up and chest out is the motto - even if the million deal calls. Dedicate yourself to exclusive clients just as courageously and confidently as you do to small investors. The wealthy contact is often like the most beautiful guest at the gala - nobody dares to speak to them. This is your chance.
My biggest aha moment on the subject of "wealthy customers" was the following: In my early days as a financial advisor, I offered investment funds on my website without the usual front-end load. With equity funds, the customer usually saved 5 percent on fees. And then it happened. I was driving my blue SEAT Ibiza on the road to a not very lucrative customer when my cell phone rang. I accepted the conversation: Gerhard, 68 years old, wanted to invest two million euros! Throughout the phone call, I wondered if he was a real investor or if someone was kidding me. In the end, it took about three weeks to complete all the formalities - my first millionaire client! Gerhard was my customer for 18 years until his death. Of course it was a lucky deal! But at that time the penny fell for me that a million-dollar customer is "just a person" and not an exotic phantom.
Marcus Renziehausen is a business economist and passionate entrepreneur, author and speaker. Since 2002 he has been CEO of the The Engineers of Finance AG active. Renziehausen has turned The Engineers of Finance into a successful company with 15 employees and 1,000 affiliated financial advisors. He is also a certified scale up senior coach.
Photo: Marcus Renziehausen