Where can I buy cotton gloves
White cotton gloves
More interesting information about white cotton gloves
What are white cotton gloves used for in the area of ​​occupational safety?
Especially in areas where dirt and dust play a large and important role, white cotton gloves are used. These gloves enable dirt to be identified quickly and allow you to better protect your materials. High-quality cotton gloves protect your hands from injuries and sensitive materials from fingerprints and sweat.
The area of ​​application for cotton gloves is large and varied. You can use white cotton gloves in manufacturing, libraries and archives, the grocery industry, and antique dealers, to name a few.

The glove is gentle on your skin and is comfortable to wear, which is why it is often used in industry and crafts.
You can also use cotton gloves as inner gloves for normal work gloves made of synthetic material or leather. This noticeably increases comfort at work.
What are the properties of the cotton in the gloves?
All people who need to protect their hands from external influences at work have the same problems. The denser and the more protection a glove offers, the more uncomfortable it is to wear. In particular, the sense of touch and thus the feeling for work dwindle with higher protection claims. In addition, with a high level of tightness, the hands quickly become sweaty or even wet.
This is exactly where white cotton gloves show their strengths.
With normal use, they maintain the sense of touch and that with high wearing comfort, high strength and low elasticity. At the same time, they absorb moisture extremely well.
The white cotton gloves can also be used as undergloves in work areas where tightness is important. Even if the sense of touch and wearing comfort are limited, the glove absorbs moisture very well. A real plus for a lot of job satisfaction.
White cotton gloves for atopic dermatitis?
Unfortunately, many people suffer from neurodermatitis. Atopic dermatitis is a non-contagious skin disease. Basically something like asthma or hay fever. Just stop as an allergic reaction or hypersensitivity to the skin. Affected people overreact with unpleasant skin reactions, especially when they come into contact with chemicals or other incompatible foreign substances.
The only thing that helps here is to prevent skin contact with these substances. This is where the white cotton gloves come into play. In most cases, the proportion of 100% cotton does not trigger any reactions on the skin and at the same time protects it from skin-irritating influences. When handling liquids such as cleaning agents or chemicals, the gloves can be worn in combination with leather or nitrile gloves.
By wearing these gloves you will prevent extreme itching or burning. Reactions that are often the result without using the cotton gloves.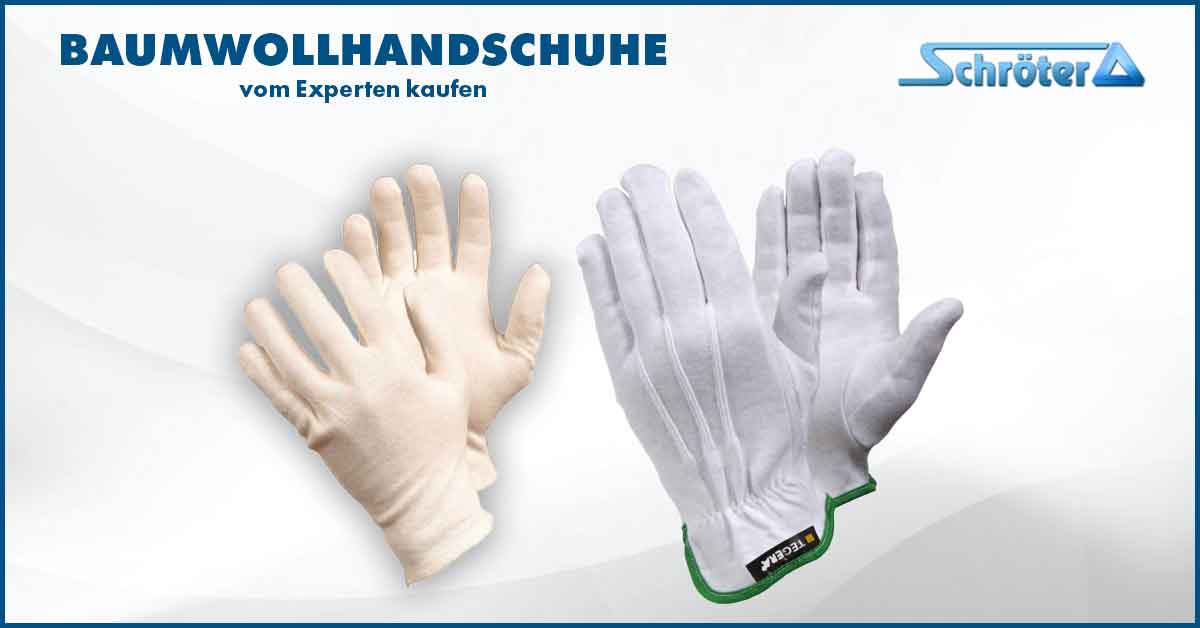 Whether simple, classic cloth gloves or special cotton gloves, all are made from 100% cotton and offer maximum comfort and the advantages of the natural material. The good comfort in different sizes ensures a perfect fit at all times. Careful workmanship and high-quality materials go without saying.
The cotton gloves in our range can be put on and taken off quickly. The underwear gloves fit easily under common synthetic or leather work gloves.
In any case, choose a smaller size to ensure maximum comfort. Gloves with the wrong size can quickly become annoying.
Further terms that appear in connection with the gloves:
Schichtel, tricot gloves, twisted gloves, tricot, brands, nitras