Ackermann admits mistakes in financial crisis
"Deutsche Bank also made mistakes, even in this crisis," Ackermann said in a television broadcast recorded on Wednesday evening (September 19, 2007). The statements sounded a little more negative than last, judged the stock exchange traders. The CEO expects a burden on the result in the third quarter, because loan promises for large acquisitions in the amount of 29 billion euros would have to be reassessed.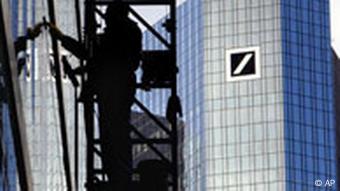 No new employees in the Deutsche Bank high-rise in Frankfurt
According to Ackermann, the planned increase in staff has also been stopped. His company planned to increase the number of employees from the current 76,000 to 80,000 this year. "We will probably not do that now because the markets do not give it away," said the manager. However, Ackermann does not see any further dangers for his company. He believes that all major risks have now been made transparent in the industry as a whole.
More losses


According to Ackermann, there are still positions that will lead to valuation adjustments at the end of the third quarter. But these could be absorbed. "I assume that there are no major time bombs ticking here," said the Deutsche Bank boss. He hopes the markets will normalize again. Ackermann was confident that investors would soon return to the credit markets.

The second largest German banking house Commerzbank sees itself meanwhile unabated on growth path despite the turbulence on the financial markets. The company's share also performed relatively well on the stock market, with a 0.3 percent loss. Other financial stocks such as Hypo Real Estate (minus 1.83 percent) and Postbank (minus 1.3 percent) lost much more markedly. Many stockbrokers expect even greater losses for tomorrow (09/21/07). (mb)